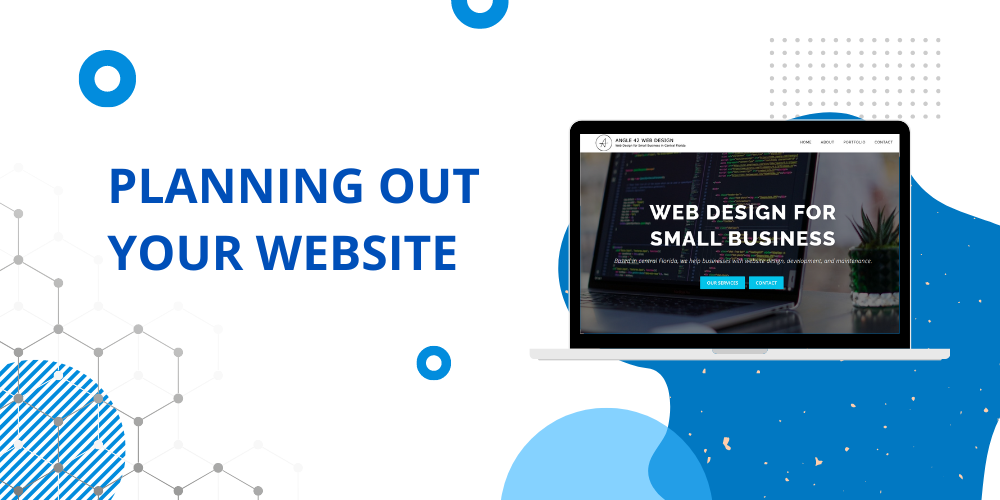 Planning and Building Your Website
Websites are one of the best ways to promote your business and add credibility to what your business offers to your potential customers. It is one of the first things a new customer will look for when seeking out your type of service or product.
But what elements should your website have to best meet the needs of your business? I will go through each of these below.
Purpose
The first component to your website should be "What is the purpose of this website?"
Is it going to be an ecommerce store?
Will you be sharing information about your service-based business? Will it highlight your portfolio of work?
Is it more informational in nature?
Is it a blog?
Whatever you decide, always return back to what the original purpose of your website is when planning and building it out.
Branding
Having a brand for your website and business is important. This includes the color scheme, logo, name, font style, and overall personality of your business. This can also include your mission and vision statements. When planning out your website, you want to consider all of these components.
Domain
Think of a domain url as the unique street address to your online business so that customers can find you. This goes along with the branding component. You will want to choose a domain name (www.yourwebsite.com) that is easy to remember, is similar to your business name, and is not too long. A domain name usually costs about $20 and is renewed annually.
Hosting
Hosting is a service that a company provides to your business to show and manage your website online. This service can be a monthly or annual fee. A SSL certificate is also needed and is often included. A website is secured when you see the lock icon beside the url address.
Maintenance
This is a very important component for successfully managing your website. Just like a car, your website is an entity that needs regular maintenance. I recommend businesses to perform a monthly maintenance check of their website.
Some things to consider are:
Who will maintain your website?
Will you be doing it yourself or will you hire someone?
So what does website maintenance mean?
It means having someone:
Checking links to make sure none are broken
Checking to make sure your content is still relevant (does it need to be updated?)
Updating any plugins that you may have on your website Consider when you have gone to a webpage and the link to the article, download, or online scheduling system is not working. Will you remain on that webpage or look for another company that has working links?
Performing regular backups of your website content. Sometimes this is a feature from the hosting company so you don't have to manually do it.
A List of Wants and Needs For Your Website
Now let's get into the more detailed components of your website. Let's consider the following:
How many pages and what types of pages will your website contain?
Will it be a one page website or will it contain 100+ pages?
Will you have an "About Me" page?
What types of tools will you need for the website to have for your business to function?

Will you need a scheduling or calendar system/plugin?
Will you include a blog?
Will you include customer reviews on your website?
Will you include photos or videos?
Will you include downloadable options?
Will you require forms?

Will you include links to your social media?
Will there be an ecommerce integration?
How will you analyze data on your website?
What types of customer service will you have on your website?
As the web has evolved and more specific components are being required, business owners need to be aware of items that need to be or are a very good idea to have on your website. They are:
Mobile device optimization
Accessibility
Policies
I will explain each of these further in a future post.
Creating a Checklist of "Now" Needs/Wants and "Later" Needs/Wants
Planning out and building a website from scratch can be a long and time-consuming process as there are clearly a lot of different things to consider and include.
But consider this…websites are dynamic and ever-evolving.
Just because your website currently includes "a,b,c" information, doesn't mean that it can't include "x,y,z" information later on.
You can always change and update your website.
And I highly recommend that you do!
When you first start off and have limited time, include the most important and least time-consuming information and components that you need. The absolute bare minimum. If you have the time and resources to add more then do so. Consider it the "Now" Needs/Wants.
Create a checklist of your "Now" Needs/Wants. Ensure that these items are on your website. Then create another list with the "Later" Needs/Wants. Once your website is up and running and you have the time or resources to update it, then add the "Later" Needs/Wants.
Remember, being done is better than being in progress and perfect.
Content
Whenever you add content to your website, consider who your ideal customer is and appeal to that customer profile. Think about the type of language that you will use to share your information. Who will write your content and how often will it be added to the website?
But the most important thing to remember is…
What adds value to your customer or client?
Think about how your customer is viewing your website and is looking for the type of service or product that you offer. For example, creating and sharing a blog post on how your product or service works in order to help them understand how it will help them, is key!
Promoting Your Website
Once your website is complete, the next thing to consider is promoting it. How will your customers find your website so they can purchase your product or service? Consider what type of marketing plan you will use. My best suggestion is to promote it on your social media channels.
Optimizing Your Website
There are many ways to optimize your website and too many to share in this post. However, the first thing you need to consider is whether you will be optimizing for local SEO or SEO in general. Local SEO is best for businesses that have a physical location or only operate in a very specific area. SEO in general is a more broad term.
You will want to look for keywords that are relevant to your business. Consider Google keywords as a starting point. There are also many free and paid services out there that can help you create a list of keywords applicable to your product or services. Consider creating a list of these keywords for reference and later use.
If you already have a website and are doing a website redesign, consider doing the following:
Go back to old posts and ensure that the content is optimized and all the backlinks are still working
Check to make sure the content is still relevant to your current business
Once this is all done, you will have a brand new, ready to market website for your business.
Congratulations!
If your business needs a new website or a website redesign, please reach out to us at angle42webdesign@gmail.com